"The craftsmanship, drive and commitment to continuously produce the highest quality products for the dairy farmer, for now and the future is why we have enjoyed such a long relationship with Mueller. Mueller's milk cooling and tank washing are tried and tested. Their ease of use is valued by refrigeration engineers and dairy farmers."

"When it comes to milk cooling and storage I think Mueller comes to the minds of dairy farmers first. Not just in Ireland, but all over the world. That has made working with Mueller extra special."
Sam Kingston, Mueller dealer and owner of Kingston Refrigeration.
The right partner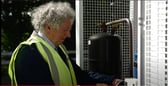 At Mueller we have a special service department in the Netherlands for installing and maintaining the milk tanks. Abroad, we work closely with dealers who are specialized in refrigeration technology and who have also followed our training courses. One of these dealers is Kingston Refrigeration from Ireland.

Together with Kingston Refrigeration we created the above video showing the steps we take from the order, the manufacturing process, to the installation on the dairy farm of a Mueller milk tank.